In the theaters from November 24 and on Filmthuis.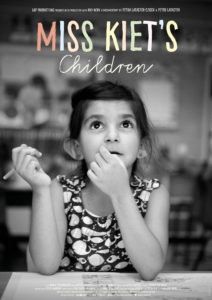 Kiet Engels is the kind of teacher one wishes every schoolchild could have. She is strict but never harsh. She is loving but never soft. Her patience in endless.
Miss Kiet's pupils have only just arrived in Holland. Many are refugees. Everything is new and confusing. Some at first are quarrelsome and headstrong. But Miss Kiet's firm but loving hand brings calm and awakens interest. She not only teaches her pupils to read and write Dutch, but also helps them learn to solve problems together and respect one another. Slowly the children gain skills and confidence.
Haya is at first impetuous, yet fearful. Little by little, Miss Kiet helps her to find her friendly side. Leanne is quiet and lonely. But after a few months she able to tell everyone, in Dutch, that she loves Branche. Jorj has trouble sleeping and is unruly. His little brother Maksim has terrible nightmares. Miss Kiet's tenacity helps Jorj discover that learning can be worthwhile and even fun.
By observation alone, without interviews or voice-over, the film focuses on four children of different nationalities. Pursuing their perspective, the camera follows at close hand their struggles to learn a new language, their fights, their friendships and their first loves.
By the end of the documentary, an affectionate community has grown – the fruit of a teacher's patience and dedication. A film of many touching moments, some of them hilarious, The Children of Miss Kiet chronicles changes that are small yet at the same time immense.
Save
Impact Program
The impact program that comes with this documentary, will use scenes from the film to help teachers, parents, school directors and policy makers to talk to each other about the subject of newcomer education. The so called 'Conversation Package' supports teachers and school leaders in their work and gives parents and policy makers a better insight in what exactly happens in the class room and what schools really need. This 'Conversation Package' is part of the Newcomer Pioneers Programme that has been developed together with Kennisland. In soon will also be available on this website.
Credits
A film by                         Petra Lataster-Czisch & Peter Lataster
Camera                           Peter Lataster
Sound                             Gertjan Miedema
Editing                            Mario Steenbergen
Sound editing                  Hugo Dijkstal
Impact producer              Amis Boersma, Miriam van Oort
Executive producer          Marty de Jong