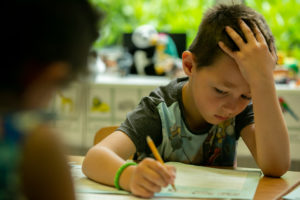 Making friends is something you have to learn and that isn't always easy. In You Are My Friend, Petra and Peter Lataster film lively six-year-old Branche who has just moved with his parents from Macedonia to the Netherlands and is going to school for the first time. He doesn't speak the language and doesn't know anyone. In a situation like that, it isn't very easy to make friends.
In the class of Miss Kiet, Branche has to hold his own among classmates with whom he doesn't share a common language or background. You Are My Friend follows Branche from the panic of his first day of school until he is a self-assured boy in Mr Wout's class.
You Are My Friend is a heart-warming documentary by the makers of Miss Kiet's Children about the importance and the power of friendship.
In their characteristically observing style, Petra and Peter Lataster filmed without commentary or interviews and from the perspective of the children. You Are My Friend is about the yearning everyone feels for loving and safe surroundings.
Click here to watch You Are My Friend in Dutch (without English subtitles)