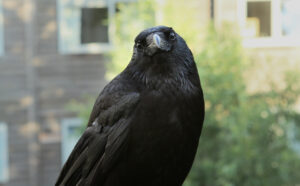 IDFA 2022, international competition. Awards for Best Dutch Documentary and Best Editing.
Working out using bottles as weights, talking to good friends on Zoom and after an hour deciding whether to request a new link. Suddenly noticing those two crows in the garden. Covid shrank the world of documentary-making couple Petra and Peter Lataster, so they pointed the camera at themselves, the nature in the garden, and their neighbors.
Journey Through Our World is less an "ego document" than a familiar iteration of this strange period in our history. The world came to a standstill but time marched on, relentlessly. And here too, along with fear of the virus there is also that calmness of successive days when your attention could be suddenly captured by a slug gliding slowly across the garden, and by crows feeding their young. Meanwhile, a beloved friend discovers she is incurably ill and dies. Throughout all this, there is one constant: the tender relationship of the couple, and their loving gaze at the world around them.